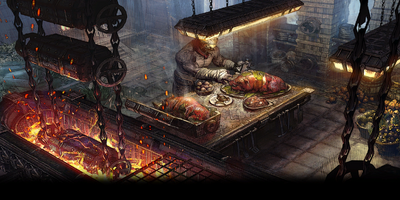 Cooking is a crafting skill used to craft various food and drink items that players can consume to receive buffs. Players can also cook food for their pets.
Cooking requires a variety of different items that be acquired by fishing, gathering and purchasing items from NPCs.
There are 28 different cooking recipes sorted into five categories for players to learn and craft. The five categories are: Battle Dishes, Normal Dishes, Drinks, Cooking Ingredients, and Pet Treats.
Players are initially only able to learn and craft recipes that require a cooking skill of 300 or less, which limits a player to only eight recipes. When a player reaches a cooking skill of 500 they are able to take an Artisan Test which, once completed, will enable a player to learn and craft more advanced level recipes.
Cooking Guide
[
]
The following is a quick guide intended to inform players on the basics of Cooking. If you require information about crafting a specific item, please refer to the page for that item.
Acquiring Recipes
[
]
Before any cooking can be done, you must ensure that you have learned the recipe for the item you wish to make. Cooking Recipes can be purchased from a Fishing Supplies Shop. Some recipes require the player to be at a certain Cooking skill level before they can be learned. Recipes are learned by being right-clicked.
Acquiring Ingredients
[
]
Cooking ingredients are acquired by Gathering plants, purchasing items from a Fishing Supplies Shop, and Cooking. There are two different categories of ingredients:
Crafting/Cooking
[
]
When you have learned the necessary recipe to cook the item you want, and you have all the ingredients you need, you can begin crafting. You need to open the crafting window (Default: J) and select the item you wish to craft under the cooking category. Select 'Craft' on the bottom right of the screen.
Cooking Products
[
]
Cooking is also part of the Rootstock Festival, held in the Freeholds, which occurs around the end of summer/beginning of fall every year. Cooking during the Rootstock Festival and cooking by Crafting, are similar, but different systems. The festival has items that are similar to items used in the cooking system, such as Cobseed, but the materials are not the same. The two systems use separate materials and do not share anything.
Also, cooking during the Rootstock Festival is limited to the festival grounds. Normal Cooking is not limited to certain areas.
Simplified path to raising cooking.
[
]
If you have the gold you can buy the

Advanced cooking Tomb

from the Dark Merchant in Highwatch or any Fishing Supply Shop vendors to become a Master.
Start by buying the Boiled Egg recipe. Buy the eggs, Purified water, and salt from Fishing Supplies Vendor. Each egg is worth 3 points so you need a lot of ingredients. Still this is the fastest way to 500.
If you have gathered Wild Cobseed, Veridan root and Mushroom Cap you can also make Common Pet Food for much cheaper.
Once at 500 you can take your Artisan test. This will require you buy more recipes which can also be acquired for free after Doing the Fishing Association questine Waining which you will automatically receive at Level 68.
Once you are Artisan leveling will slow down drastically as the amount of ingredients you need are large and mainly Fish Filet. The other recipes at Artisan level which are the Normal Dishes are all Vegetarian items gathered for yourself or from the trade broker - and ingredients from the Fishing supply Vendor.
At the end of buying all the recipes and making it to 800 is the masters test.
History
[
]
Cooking was added to the computer version of TERA in a December 2018 update [1][2].
The recipes for Pet Treats were added to the computer version of TERA in a May 2019 update [3][4]. This update also brought major changes to the Pet System in TERA.
Cooking was added to TERA on the PS4 and XBOX during a July 2019 update.[5]
See Also
[
]
References
[
]