| | | |
| --- | --- | --- |
| | | This article is a mob stub, an article too short to provide more than rudimentary information about a mob. You can help the TERA Wiki expanding it by editing. |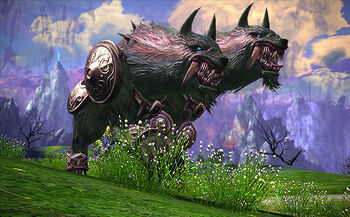 Cromoses (species) is one of the enemies in the game TERA.
Ecology: Island of Dawn, grassy plains near Leander's Outpost and Tainted Gorge
Variants: Cromos, Wandering Cromos, Prowling Cromos
Attacks: Bite, charge, trample
Defenses: The cromos's fast backstep may remove it from range of your next strike, and its sidestep defense keeps it out of the way of slow attacks. Its triple charge is very likely to knock one down, at which time is unlikely counterattackable, and will take extra damage.
Weaknesses: When it has committed to a charge, a cromos is extremely vulnerable to attack from anyone not directly in its path.
Background
Edit
These strange, two-headed hounds are supposedly created by the Scions of Lok using power given to them by the Argons.