Deadly Gamble
Skill information
Tooltip description
Usability
Level
48
Class
Warrior
Source
Tactics Instructor
Properties
Mana cost
333
Cast time
Instant
Cooldown
120sec
Deadly Gamble is an active skill that can be learned by warriors at level48.
Deadly Gamble dramatically increases a Warrior damage through higher critical hit chance, but also increases the Warrior chance to get hit by a critical hit by enemies.
Rank table
Edit
Deadly Gamble can be bought from Tactics Instructor. This skill cannot be upgraded.
| Rank | Level | Cost | +Crit Chance | -Crit Resistance |
| --- | --- | --- | --- | --- |
| I | 48 | 11 02 98 | 36 | 30 |
Upon learning Deadly Gamble, glyph points can be allocated on this skill. At level 60, a character has 50 glyph points available to spend on all available warrior glyphs. Most glyphs, specifically common glyphs are learned automatically, while Master Glyphs must be looted from enemies or bought at a Trade Broker.
| Icon | Name | Points | Effects | Glyph Type |
| --- | --- | --- | --- | --- |
| ? | Glyph of Energy | 4 | Decreases cooldown by 25%. | Basic |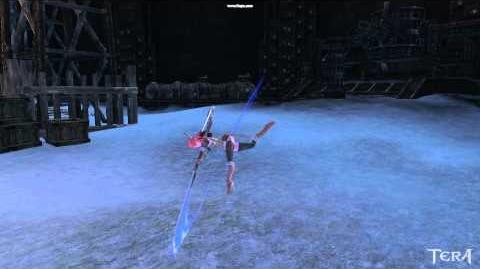 Damage

[?]

 Blade Draw •  Combo Attack (Warrior) •  Leaping Strike (Warrior) •  Pounce •  Rain of Blows •  Reaping Slash •  Scythe •  Traverse Cut •  Vortex Slash
Control

[?]

 Backstab (Warrior) •  Battle Cry •  Cascade of Stuns •  Charging Slash •  Combative Strike •  Mangle •  Poison Blade •  Staggering Counter •  Torrent of Blows
Defense

[?]

 Cross Parry •  Death From Above •  Evasive Roll (Warrior) •  Retaliate (Warrior) •  Rising Fury
Utility

[?]

 Command: Attack (Warrior) •  Command: Follow (Warrior)
Summoning

[?]

 Smoke Aggressor •  Smoke Flanker
Effect

[?]

 Assault Stance •  Deadly Gamble •  Defensive Stance
Passive

[?]

 Merciless Leap (Warrior) •  Staggering Riposte