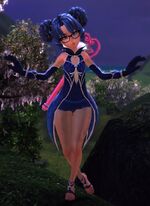 You've got your game face on, but that doesn't mean you can't dress it up a little. Whether you're too cool for school or want to play dress-up, we've got the glasses and masks for you!
Face costumes are worn on your characters face. These can be acquired from the TERA Store or other players via Trading and the Trade Broker. Some face costumes are earned through Achievements, Quests and more.
NOTE: This list was updated to reflect the NA computer game version and may or may not reflect what is currently available in console versions of the game.
| Icon | Name | Icon | Name |
| --- | --- | --- | --- |
| | | | Bandit's Mask |
| | Black Honker Glasses | | Black Horn-Rimmed Glasses |
| | Blue Bandit Mask | | Blue Frames |
| | | | Dracoloth Mask |
| | Emerald EyeGlasses | | Frostlion Mask |
| | Glitzy Mask | | Green Honker Glasses |
| | Indigo Honker Glasses | | Mirrored Shades |
| | Ocean Blue Shades | | |
| | Olive Bandit Mask | | Pirate Eye Patch |
| | Red Honker Glasses | | Red Lash Mask |
| | Ruby Rims | | Shadowcat Mask |
| | Sanguine Shades | | Sunset Shades |
| | White Sand Shades | 60px | Dwarf Orcan Mask |